Creative Miniatures in Flasks:
1) A Tiny Brig in a parfum flask:
Here the tiny two-masted Brig was assembled part by part from the outside. The hull was split in two halves, assembled in the bottle, then the fore and aft masts were fitted to the deck one at a time . A small ring was then glued to the flask with a special epoxi resin. The pendant-ship was worn linked to a necklace. One last word on this kind of miniatures: Take into account that the nicest flasks are those usually used for parfums. Technically, these have the narrowest neck of all.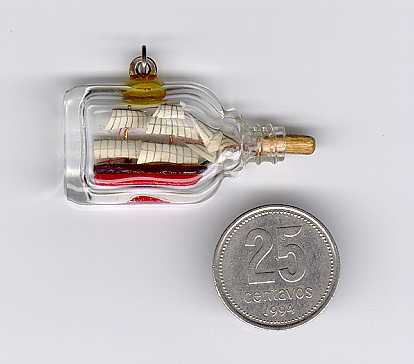 2. A Small Fowchow Junk in a sample flask:
Here is a funny example of a tiny junk. The battens of the sails are made of small brush hairs, the sails are japanese silk paper. It was assembled from the outside.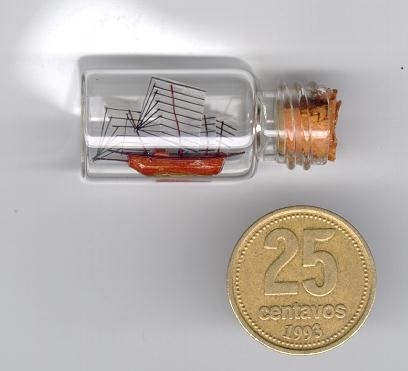 3. A Ghe Luoi Rung from North Saigon, in a mouth blown miniature flask:
This small and slender craft sailed the waters of North Saigon coast. It is called a Geh Luoi Rung and carries its sails in a so called gunter rig perched on small masts. This type vessels could also rig three masts in the same way. Please note that these small decorative flasks are mouth blown, thus offering the clearest glass of all , but also narrow and asymmetric necks and openings.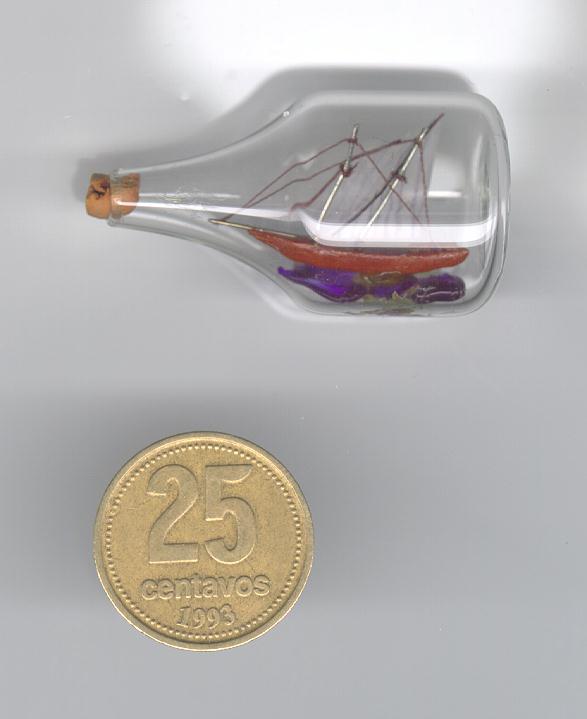 Ir "Miniaturas Divertidas" en el Rincon del BEB
Zu "Lustige Miniaturen" an der Buddelschiff-Ecke
Return to Eddy's Thimble Pier Top page
Wish to take a look at the SIB Gallery?
Comments or questions to:
(c) 2000 Eduardo Raffaelli. Buenos Aires . Argentina